LAUNCHED JAN. 1ST 2012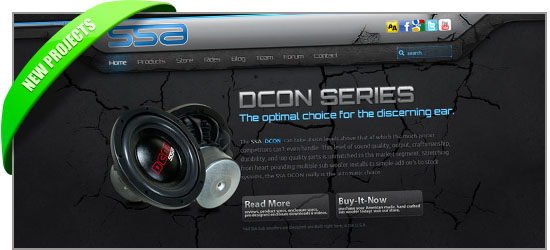 A new year called for a new look for Sound Solutions Audio Inc.  This website, with traffic reaching 250,000 page views per month, SSA needs to have the latest and greatest look for their sub woofer company.
The entire site got a revamp, starting with Joomla Software upgrades for the latest security, newest contact form system out there, and updated product pages.
The homepage got a total layout revamp, with the stunning slide show, with their professional product photos, sliding through their entire product line up.  Featured Team Member rides pages, store features, and video of the month, the home page packs a serious punch.
The product pages are new and improved for 2012.  They include a tab system now, stuffing tons of information with a clean look is what they are all about.  Reviews, Specs, Enclosure Specs, Downloads of Pre-Designed Enclosures, & Videos are all included in each product page now.  Everything you need to know about their product line is cleanly laid out infront of you on their product pages.