SundownAudio.com Rebuild 2012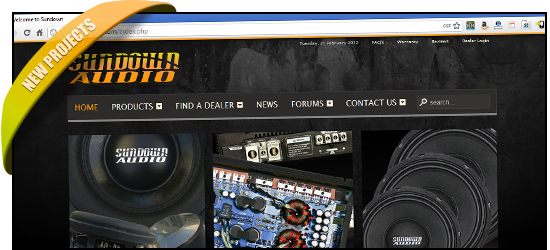 Over the past several years, LaFountain Design has been the sole web designer for Sundown Audio.  As the company has grown, they have needed a stronger web presence with better site functionality.
This year, with sales at an all time high, and a much bigger need for more features on the website, they got together with me again for the redesign of their site.  They didn't want the format of the site to change though.
LaFountain Design has rebuilt the backbone of this site to the latest version of Joomla, implemented a brand new dealer locator system.  Now you search by keyword, US State, or Country to find your favorite Sundown Audio Dealer.  We didn't stop there, reworked the News page to stream all the latest Sundown Facebook information, rebuilt the contact system, and installed easier ways for existing dealers to login to the dealer section of the site.
The product pages all got software upgrades, some with brand new layouts, new gallery bells and whistles, and an overall "easy flow" browsing experience, designed to be user friendly.
Related Articles