Bail Bonds USA 2012
Bail Bonds USA 2012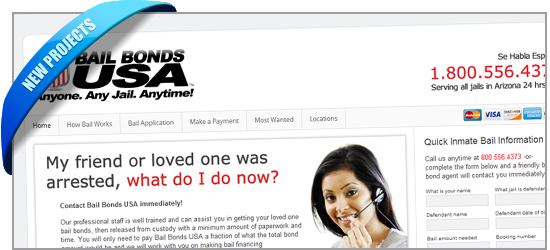 Bail Bonds USA is constantly improving their web presence with fresh new designs every few months to show their customers that are out browsing for Bail for their loved ones, that they are the best in Arizona for a reason.  They care how they appear, as first impressions are everything.
LaFountain Design has provided one of the best Bail Bonds website in the industry with the newest version of this site.  Complete with lightbox style fully functional Bing Maps for directions, state-of-the-art slide show on the home page, interactive Google map on the locations page, SEO, Invision Power Board Forum featuring Bail Bonds USA "Most Wanted" and a great over all layout.
Judge for yourself, check out the new BBUSA!